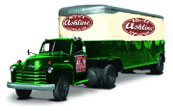 ASHLINE MOVING CUSTOMER REVIEWS 
Janet Farone  May 2017
I remember the iconic Ashline Trucks delivering blocks of ice to my parents club on Saratoga Lake. They did a great job recently moving our belongings and I would recommend Ashline to service your moving needs.
Tom London May 2017
Ashline is an old trade name in the moving business here in Saratoga and I remember them from when I first started in my own business many years ago. I needed a good mover during some unexpected renovation work and they were an excellent choice.
Mary T May 2017
I have used Ashline Moving in Saratoga in 1984 when I moved back from Boston to take carte of my Aunt. They were great, right onetime in Boston traffic is not easy. My latest move with Ashline was from my 4 bedroom home moving into an apartment in Malta. Ashline was great from the scheduling on short notice to the movers being hard working with a good sense of humor. Ashline is a good reliable moving service.
Al P April 2017
We were dealing with some closing issues and Ashline saved the day with an option we could have never figured out. Teresa and Blake were fabulous and the move went without a single ding. I wouldn't hesitate to call this old business anytime.
Olivia S April 2017
100 years in business for a reason. We are pleased with the service and cost today, no wonder you have been in business so long. We always use a local business and its usually great.
Carol B March 2017
Having moved several times using Ashline's I can truthfully state they are they are all around professional and affordable. I wouldn't think of moving anything heavy again. Frank and Mike were just super this last time, great sense of humor and skillful. Thanks again
Linda M March 2017
The guys were terrific today, everything went well even around the snow banks. Your movers are the best we have had.
Francesca A January 2017
We had a fast closing and Ashline totally accommodated our situation. Teresa and Alfred really know what they are doing and they are well connected around town. I would tell anyone to call Ashline.
Paul G January 2017
I was in need of a mover and I saw Ashline's add so i called them. They had the day I needed and they sent me an email confirmation. The move went well and the price was accurate from the estimate. These guys are the best movers I have ever had.
Marcia N December 2016
I remember this company from years ago when I worked at Cluetts. I was happy they are still in service because I had a nightmare with a company from Glens Falls when we sold our home. I called Ashline and teresa came right over and gave us a good price. the movers were all top notch and everything was set up perfect included help setting up the cable TV. Blake was really great and I would use them again.
Nina B December 2016
We interviewed several local companies and in the end we choose Ashline because they are truly local and the the family handles the work. we have been moved several times big big companies and Ashline is a delight to work with in many ways. They helped us organize a rather large move with heavy delicate items. they also padded off all the floors and stairs in our brand new home. Ashline Moving is a professional and well known business and that why we will be recommending them.
Mike T November 2016
I can't thank the office and guys at Ashline moving enough for the awesome move last week. We will definitely recommend them to other needing quality moving and storage.
Maryanne V July 2016
This is the fifth time I have used Ashline Moving and Storage. They are always timely and available.
Linda M     April 2016
I used this company for a disabled client that I work for. Al, in the office was great at organizing everything and his correspondence was right away. They were very accommodating with changes and they are very different from the other companies. Ashline gave me all the info that I needed to make a tough move go smoothly. I would give them my highest referral and will continue to use their service.
Alicia verified April 2016
We just hired Ashline to move us from Delmar to Clifton Park. They were recommended by our realtor Vicky and we were very satisfied. Both the office and the staff were very helpful and covered all the basis, wrapping everything carefully and padding up the floors in both places. They did a great job getting us involved before the move so we were confident on the day we went. It was a small move but we had a huge armoire and they did it without any problems or damages at all. Overall it was a positive experience and was far less expensive than we had paid in the past. I will use them again
Chris G. April 2016
Excellant customer service, knowledgable and experienced. The movers that work with them are very experienced and pro's. Ashline Moving and Storage made our job a pleasure. They are honest and great at what they do. They are the very best movers we have had.
Elizabeth and Mark  March 2016
We hired Ashline based on the phone interview and how they represented themselves and their business. We had some concerns regarding moving and they seemed to be a good fit for us. We are older adults downsizing and Al helped us sort through some cumbersome items. On the move they were wonderful as well. They provided a great service and we were pleased with the price.
Joe B  March 2016
I remembered this company from years ago when I worked at Wards. And so i hired them to receive some new office fixtures from a truck line and deliver and set up in a new building in Saratoga. Just as I remembered them from years ago everything went smooth without a hitch. In fact I have two more orders going there way. If you want a good well balanced company then Ashline Moving is great choice.
Rex S  February 2016
I needed a small move but with some expensive big furniture. Ashline Moving came referred by Danny at GCR and they were great. We rented a truck and I met the guys over at Penske. They did the job after work so i didn't need to use any vacation time. The guys were great, no problems. I paid them and we were done. I would recommend them to any professional who values their time.
Sarah W  February 2016
Ashline moved us from Rensselaer to Albia. we had a lot of antiques and glass pieces. The man in the office explained how it would be handled and it was exactly that. Everything went well and the movers were great to work with even helping us with a heavy tool box into the basement. They came highly recommended and we will highly recommend them also. We needed to rent a truck but that gave us a confirmed time and control over the job. It was perfect.
Christian N  1/5/16
I  am not from the area and we decided to hire this mover because they were recommended by the manager of the building we were moving into. Ashline moved us out of a 5 bedroom home in Saratoga, part to storage, part to charity, part to a friends house and gave us a full pack and unpack in our new apartment. They were excellent for two straight days. We rented a truck and they arranged a dumpster and storage for us. One call shopping. we did go the expensive route but it was a great investment around our house closing and scheduling at the new apartment. They also moved our son to Boston and did a great job as well.
Rose Mary  verified 4/27/16
I hired Ashline to move some large expensive items around our bed and Breakfast, they came right as scheduled and all with a nice confirmation from the office (who were great to work with) and they were amazingly efficient. Our Inn is packed with obstacles, steep stairs and tight turn. They were just great and they accomplished all we needed well within the budget. i will not hesitate to use them again.
DAVID W  verified  4/22/16
I was shopping around for a mover for my mothers senior apartment in Troy when a co-worker referred Ashline to me. I was very comfortable with the way they handled the estimate and so I hired them to move mom. The guys showed up right on time and well equipped to wrap some of the china and crystal in professional materials. The crew all identified themselves upon arriving and kept to a well manored tone through the day focusing on some long carrying and an elevator situation which needed to be shared with the other residents. I was quite impressed with the entire way they handled my mothers job. I gave the crew a nice tip and sent a letter to their office.
Mike and Kathy   verified 4/18/16
This is the third time we have used Ashline for a small project. They are always accommodating around our schedule even on such short notice. I never have to wonder or worry because these guys are so experienced and it shows every time. This last one, we had an old pool table in the basement and they got it out and set up with no problem and in no time. They worked real hard and it was their second job that day.
KELLY M  verified 3/16/16
I am a single parent without any family in the immediate area. When I was calling around for information and prices I came across your business. It was a delight when I realized how thorough the initial information was but additionally the compassion I felt made me feel more empowered than vulnerable in the situation I was in. Your office gave me all the necessary details to get me organized and locate a storage unit and a rental truck. The crew was pleasant and took great care of my things. I am very happy to share my experience with you wonderful family business.
DON and MELINDA  verified one year ago
Your local moving labor  was great from beginning until the end. They called when they were on the way, showed up smiling and worked non stop negotiating some large pieces around some tight spots in our new place. Your office was personable and informative getting us ready the right way and with information we would have not known. Teresa is very knowledgable and fun to work with. We called around to some different companies and received several quotes. Ashline Moving was by far the best and much easier to deal with. Our belongings were handled totally professional. The floors and carpets in our newly built house were all covered and protected. The team went the out of their way to help Don set up the attic. The assistance you gave us renting the moving truck and all the packing advice was greatly appreciated. The final outcome couldn't have been any better. Your experience shows and we will definitely recommend you. Thanks again.
ANDREW     verified  one year ago
I really wanted to thank everyone at Ashline Moving Company for the wonderful job you did moving my parents estate. We felt it only fair to express our pleasure in working with your office and crews. It was a great experience in a difficult time for us. We will and have recommended you to others based on our experience and will call you anytime we need a move.
TOBY       verified  one year ago
Ashline Moving Labor was referred to us by our realtor who has used them several times for various projects both personal and some office moves. They were very accommodating and offered us some options solving a difficult and costly situation that we were facing. In the end we needed to secure our own transportation which Ashline Moving suggested and consulted us on. The guys that moved us were amazing, professional and they had nice dispositions while working very hard. They connected our washer and dryer which was posing a dilemma for our childs uniforms. Additionally, the final  price was far less than we were quoted by another mover. We are very happy with Ashline Moving and we give them our highest recommendation.
CINDY    verified one year ago
I interviewed 4 moving companies before choosing Ashline Local Movers. The office represents themselves accurately and they are extremely thorough. We received a confirmation within minutes of the scheduling and with a guaranteed price. We also were given their cell phone which was handy when we were packing on a Sunday and had some questions. Ashline offered us information that enabled us to get ready on our own and save substantially when the it came to the move. The movers were on time, clean cut and focused explaining and questioning as needed. It was a wonderful job and I wanted to give you a special thanks.
SOFIA    verified one year ago
I had a small move consisting of a few large bedroom pieces and a large reclining chaise which I just purchased. Ashline Moving Labor was great, they used padding with blankets and wrapped everything in plastic. It looked very professional showing up in my new building which recommends them because they are insured. When I mentioned it to my dad he said that he used Ashline in 1960 and he was happy to hear they are still around. I really liked working with them.
MARTHA    verified one year ago
On behalf of the staff and board at The Rosendale Library we would like to commend the owners of Ashline Moving Co.  for an outstanding performance in our total relocation and storage . With a lot of last minute changes in construction your personnel adjusted and did an outstanding job. It was a daunting task and your crews worked through some hot days without any complaints. We are very satisfied with the services you provided and we will keep you in mind for any additional work.
Barbara   verified two years ago
I have moved multiple times and I must say that my last move from Clifton Park to Glens Falls handled by Ashline Local Moving was the best moving experience I have ever had. From my first call to the unload, every aspect of the move was professionally done and with a personal touch. The man in the office was excellent and a delight keeping posted on the time and prep. I think I drove him crazy with questions, but they were great and well communicated. The best was how the crew wrapped our leather sofas and loaded like the pros do making it all fit like a puzzle. When I saw this I knew this was an exceptional service that had been around for a long time. I have told everyone I know about this experience.
MARK     verified two years ago
First and foremost I would like to thank everyone at ASHLINE MOVING COMPANY for the stellar job you did moving our offices last week. The pricing and onsite support your company offers makes you exceed the rest. Our entire third floor was transferred across a rooftop and hoisted down the side of the building which demonstrated your experience and connection to your industry. Our administration had no downtime due to way your coordinated the job.The entire process was amazingly smooth and with out a single damage. You were especially easy to get pricing, set up dates and insurance certificates working with the landlords all of which loved your guys "and girls". The fact that you have some staff for over 20 years says everything to us and we will be using your for another move down state this fall.
KELLY   verified  two years ago
Ashline Moving Labor is a great alternative to the expensive big corporate movers. They were well informed and made me comfortable in choosing them. The team was onetime and I was satisfied with the final price. I will definitely use them again.
AMANDA    verified  8/16/14
We have always moved ourselves. I called around and checked out some movers. I was taken by the way Ashline Moving represented their service-far different from the others. We still moved a lot of our stuff, all the small and fragiles. Ashline came and moved all the big pieces professionally and that went so well we had them unload the two PODS and set everything up, the basement being the worst. They were just great all the way around, scheduling dates, pricing and insurance. We will go this route anytime.
TAL   verified 7/12/14
I hired Ashline Moving labor to unload my truck in Guilderland NY. The moving men were experienced and helped put my items together. They had insurance paper and a receipt. I am thankful for them.
AMY   verified  7/3/14
After years of bribing friends with pizza to help us move, we decided to hire Ashline Local Moving for our first "real" move and they arrived just as scheduled, helped ease our nerves and made the next few hours more manageable. We are grateful for their experience and efficiency, thoughtful treatment of our furniture and their good humor. Alfred our account manager was just terrific to work with as well as patient and friendly with my many questions always being prompt to return a call. Ashline will certainly be at the top of our list for anyone needing a mover.
Vince    verified  6/26/14
Our move with Ashline Moving Labor went great. a special thanks to Alfred for making it all happen. He gave us an afternoon appointment so would could close that morning. He worked some difficult issues out with the other powers and he stayed in contact with us all day. we were quoted a price and it was right on. Alfred gave us some great info which really helped everything go smooth. They were honest and the movers are great. we gave them a nice tip. We have heard great things about them and we would use them in a heartbeat.
Caroline    verified  6/2/14
having just completed our second move with Ashline Local Movers we couldn't be happier. Both moves went as scheduled, on time and no complaints. The crews are polite and knowledgable and treated us with care both times. We actually save money moving because of the way ashen advises us to prepare which I believe is the best way to gain business. I know just about everyone in this facility used them.
MATT    verified  4/14/14
We would like to thank Ashline Moving for the great job moving our firm. Teresa was extremely helpful and conscientious thought the entire project. She kept us informed and managed the entire move alleviating us from being involved directly with the movers. We couldn't have asked for anything more and going beyond what we expected making sure we were 100% satisfied. Our actual cost were less than we had projected. When I read their website I called and after meeting them, the design was easy. We would recommend them to anyone looking for a well organized move.
Ashline Local Moving Reviews